Keep your samples cool during sonication
Sonication generates heat which may be detrimental to most applications. The #4905 high capacity chiller easily automates the cooling process. Controlling temperature by adding ice chips and repeatedly changing the water is no longer necessary. The #4905 model does not have an internal reservoir to hold water. It will circulate and chill the water held within a cup horn or microplate horn without affecting the water level.
Quick-connect tubing and fittings (ordered separately) are used to attach the chiller to the ports on the cup horn or other system. Simply set the chiller to a desired temperature, from 5-45°C, and cold water will recirculate through the system.
The #4906 is a high capacity chiller with an internal tank to hold water. This model can be used with a flocell or other devices that require cooling. Note this unit is not recommended for use with a cup horn system. The #4906 chiller includes a standard set of tubing and connectors. Customers can use their own fittings/tubing if other sizes are needed.
Older model Sonicator accessories may require special fittings so please contact us for ordering assistance. Tubing and connector sets are sold separately.
| | |
| --- | --- |
| Cooling capacity | 400 watts |
| Flow rate | 1 Lpm |
| Fittings | 1/4" female CPC quick connect |
| Interface | RS232 |
| Voltage | 115-230 VAC |
| Dimensions | 13" x 11" x 13" (32 x 28 x 32 cm) |
| Weight | 28 lbs. (12.7 kg) |
| Operating range | 5 - 45 degrees C |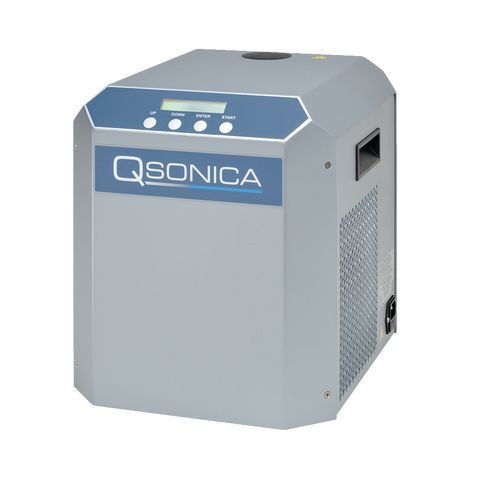 High Capacity Recirculating Chiller